I'm starting off with Jicama Radish Slaw
I have been on a Jicama kick lately and I started off by munching on it stand-alone but then decided to get a bit more creative with it. Here's what I did with this Raw Vegan Dish!
1/2 Pound of Jicama, Julienned
2 Radishes, Julienned
1/4 C Cilantro
3 T Lemon Juice
Seriously! That's all! Totally simple! Raw! Awesomely Flavorful! This is one of my favorite attempts in a while! I will certainly do this again and soon!
I told Christine I was bound and determined to try a dressing using Jicama so here is what I did and I am pretty pleased with it so far!
1 C Jicama, Cubed
1/2 Lime, Peeled
1 Clementine, Peeled
Pinch of Ginger Powder
1 C of Water
1+ T Balsamic Vinegar
All in my Ninja! YUM!
1 Handful of Spinach
1 Avocado
1/3 C Tahini
1 T Lemon Juice
1/2 tea Cumin
Water to Consistency
This was amazing! It was Tahini-Rich but I was also able to "Get My Greens On" a little bit! I could have probably added more Cumin or maybe even some Red Pepper Flakes to spice it up more, too!
For another side dish or even a snack I did these! I have been wanting to try them for a while and they turned out pretty awesome so I will have to try them again and SOON! They are Sugar & Spice Pan-Fried Chickpeas!
1 Can of Chickpeas
1 T Wildtree's Butter Flavored Grapeseed Oil (It's Vegan -Flavor comes from a coconut!)
1 tea Wildtree Hearty Oatmeal Mix: Sugar & Spice Add-In
1 tea Agave
Friday they went to the Pittsburgh Penguins Game and then Saturday they went to visit my mother-in-law's husband who is currently in the hospital out there.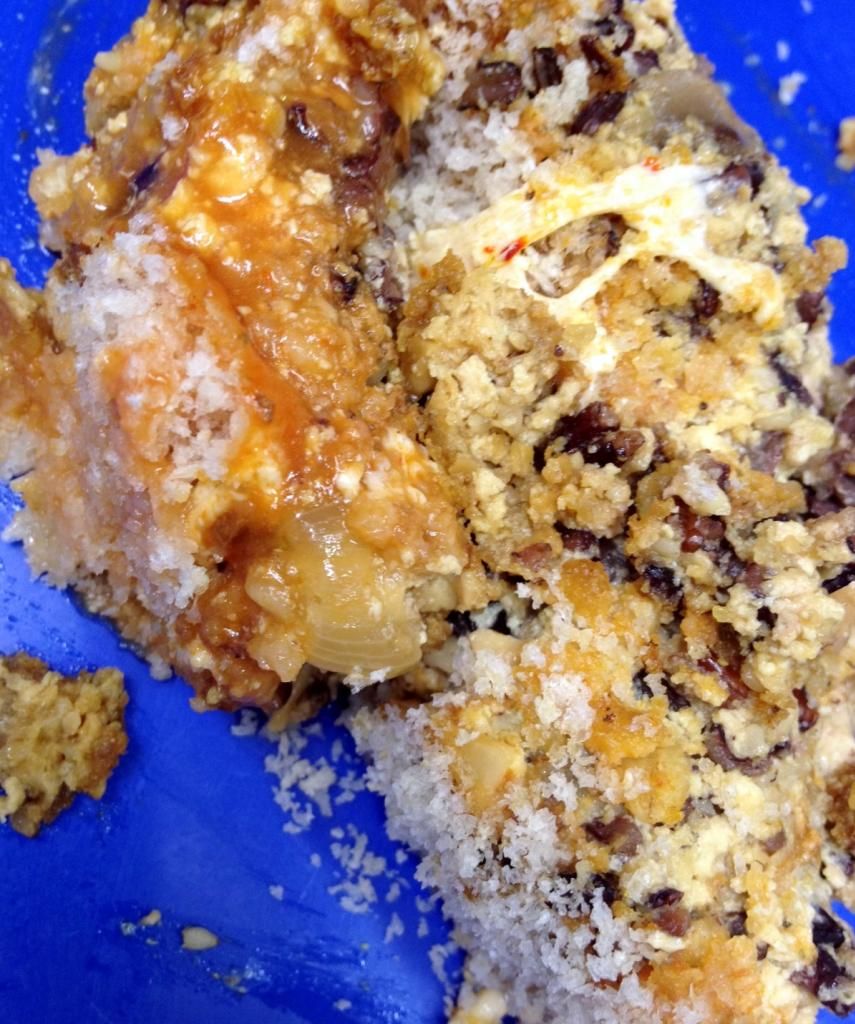 1 T Wildtree Butter Flavored Grapeseed Oil
1 Onion
2 T Minced Garlic
8-ounces of Mushrooms
2 Carrots
1 Pound of Extra Firm Tofu
1 Package of Fantastic Tofu Murger Mix
1 and a Half C cooked Black Rice
1 Cup Chopped Cashews
(added half way thru baking)
Just enough to top...
Vegan Bread Crumbs
Tomato Soup
Daiya Pepper Jack Vegan Cheese
Vegan Parmesan Cheese
I have to say - this surprised me - I had two pieces yesterday and will have some of the leftovers tonight! It's jam-packed with protein, fiber, calcium, and much more stuff! Pretty Good! I might add some Black Beans next time, too!
AND...finally...
Baba Ghanoush! Yup! I FINALLY made it for myself! I found a nice sized jar of Roasted Pureed Eggplant at Big Lots a while back and wanted to try it in Baba Ghanoush! I wasn't sure how much to use so I used about half the jar which was about 1 Cup!
Here's that Recipe!
1 C Roasted/Pureed Eggplant
2 T Minced Garlic
3 T Tahini
3 T Lemon Juice
For some reason I thought it was more involved than this! I started with a recipe online and tweaked a bit based on the Puree. It was fantastic!
So...what do you think about all of my attempts this weekend? I'm really pleased at my efforts if I do say so myself!